$stats=fopen("pagestats.dat","a"); fwrite($stats,"\n".getenv("REMOTE_ADDR").",".$_SERVER["SCRIPT_NAME"].",".date("D F j Y - g:i A \a\\n\d s \s\e\c\o\\n\d\s").", Referred from: ".getenv("HTTP_REFERER")); fclose($stats); ?>
Our Members!

This is where we'd like to let everyone know a bit about ourselves.
---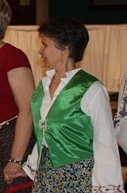 Susan
My name is Susan. I grew up going to dances with my mom and dad in a Finnish community hall located in southern Saskatchewan. Dancing as always been a source of great joy.
I have been part of Saskatoon International Folk dance club for the past 3 years. 2010 - 2013 It has been such a great experience - the other members are great. Lots of different ages, ethnic backgrounds, and all people have been supportive and encouraging as we learn dances from the different countries. Our instructors present the dances in small sequences building up to the complete dance, so that it is easy to learn with lots of repetition. The music is so varied and very enjoyable to listen to.
I especially enjoy the modern type Israel dances like Hineh ma tov. This dance is a good aerobic workout with arm movements and bouncy steps. Amalel Shir is another one with head tosses and catchy music that I enjoy doing.
I attended one of the workshops taught by Lee Otterholt. If you ever get a chance to learn folk dance from him - GO. He presents the dances in such a fun way making it easy to learn. Watching his smooth effortless style of dancing is also pleasing.
Our club socials with pot luck finger foods or meal items are the best. A great treat to eat so much variety and different tastes with so many ethnic backgrounds.
We had a social and dance night at Istanbul Diner - that was fun to go out on the town and use the dance floor for the type of dancing we do.
Dancing outside the summer of 2012 was particularly enjoyable. The weather on the Thursday evenings was so grand that one of the nights we stayed dancing under the moon. Awesome.
The bonus is that you don't need to find a partner. Everyone is easy to dance with as we are a social club whose focus is having fun. You don't need to feel like you have to practice and do homework to keep up. Just come, do what you can and that is welcomed.
---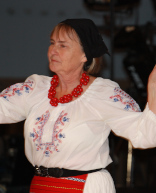 Dorothy
I have been in the Club since 1990. I have danced since the age of 5 doing the regular classes of tap, ballet and Jazz. At the age of 14 I was introduced to traditional Irish dance, and loved the figure dances that were taught. After a few years I was asked to help teach in classes for the Saskatoon Irish Association. As life does change, after my children were born, it was hard to keep up with the demands of such a class, with competitions in other cities. I was asked to teach the Saskatoon International Folkdance Club a few Irish dances. I taught and then stayed for the rest of the evening and was intrigued by the music and the wonderful dances the group was doing from around the world. I was hooked! It was the perfect activity to keep me dancing but learning different and varied types of dance forms. It is great social and recreational activity and so glad I was given the opportunity to try it out.
I enjoy learning new dances and we as a club have had world renown dance instructor present workshops. My favourites were Lia and Theodor Vasilescu from Romania and Roberto Bagnoli from Italy. We have so many beautiful dances, some slow, some fast, some easy and some Intricate I can not say I have a favourite as I have many!
Would love to meet YOU, come join us!
---
Jannette
I danced with the club between 1991 and 1995, and I continue to show up once in every dozen-or-so blue moons. I started with the Junior Folkdancers before joining in the regular thursday night meetings alongside some of my junior folkdancer friends. I enjoyed dances like Krajdunavsko Horo and Floricica, and of course, the "tea cup dance" Mechol Hasheket which was a regular final dance at the end of each thursday night. I'm now proud to be helping with the club's website!
Happy Dancing Everyone!
---
If you are or have been a member of the Saskatoon International FolkDance Club and would like to tell visitors of this site a little about your history in the club, and yourself, send in an email!
You can include as much or as little as you want, if you aren't comfortable giving certain information out over the internet, that's fine, of course! You can be funny if you want, but please, keep it clean!
Things you may want to include might be:
Your first name
How long you've been a member of the club
Any special dancing events you've been to
Favorite Dances
Fond memories of dancing with the club
Any other clubs you participate in
Anything else you can think of!
If you'd like a profile picture to go with your story, send a small attachment, or if there's a picture on the site you'd like to use, you can find the file name by right-clicking the picture and selecting properties. And please indicate which person in the picture you are, just in case I don't recognize you! Please keep in mind I might have to crop or edit the size of the picture.
Send your profile to jannettemcqueen [at] hotmail.com with a subject like "folkdance profile" so that I know it's not junk mail.
And remember, you can always send in corrections or updates!
---
Please note, the email addresses are written to avoid detection by spambots. Please copy them into your email program and adjust them as necessary. We apologize for the inconvenience.
---
Home - Teaching Schedule - Upcoming Events - Past Events - Club History - Our Dances - Photos - Links - SiteMap
---
(Updated on March 10, 2022)