$stats=fopen("pagestats.dat","a"); fwrite($stats,"\n".getenv("REMOTE_ADDR").",".$_SERVER["SCRIPT_NAME"].",".date("D F j Y - g:i A \a\\n\d s \s\e\c\o\\n\d\s").", Referred from: ".getenv("HTTP_REFERER")); fclose($stats); ?>
All the events the club or performing group (1981 – 2000) danced at are:

WUSC (World University Services of Canada), Spirit of Saskatoon a multicultural Council production, Canada Day Celebrations in Diefenbaker Park by Optimist Club, Princess Anne's Visit, Western Development Museum Heritage Day, Canadian Council of Teachers of English U of S Bowl, Folkfest Jewish and Pakistan Pavilion, Multicultural production in North Battleford at the new Friendship Centre, Nordic Ski Club Christmas Party, Extendicare, the Youth and Multiculturalism Conference, Stensrud Lodge, Senior Citizens Home, the 100th Anniversary of Prince Albert Park, Sundog, Regina Folk Fest, Canada Day, Exhibition Week, Art in Park, Normal School Reunion, Telethon, Church of Latter Day Saints, Tapestrama in Prince Albert, U of S International week, Broadway Street Fair, Jewish Hadassa Basar, World Youth Baseball Championships in Kindersley, Folklorama in Swift Current, Folklorama Weyburn, Club 23 Below, Broadway Street Fair, University daycare, Rotary International, Bayside and Lawson Heights Mall, Street fairs in Broadway, Sutherland and Riversdale, Dance Saskatchewan AGM Showcase, Sion Convent, The Saskatoon Holliston community's Focus on, Sherbrooke nursing home, Sisters of Sion, Riversdale Rendezvous, Saskatoon Regional Heritage fair, ESL Guests at Club Nite, Israeli Independence celebrations, Fund Raiser Children of Chernobyl in Warman, Hungarian Grape festival, Dance Sask. Celebrity dance–a–thon club taught, World mental health day variety night, Bayside Mall Russian emporium and African Safari Honorarium, Istanbul Café, Sutherland Harvest Fest, 1997 Festival of Trees 1st time and every year after that till 2016, International Women's day, Immigrant Women of Saskatchewan – Saskatoon Chapter, Saskatoon Open Door Society volunteer recognition night, Chinese New Year Celebrations, First Annual Women's Festival, Voyager club of Saskatoon, Saskatoon City Hall, Saskatoon Family Support Center, Multi-Lingual Teachers and Coordinators Estey School, Holy Spirit Church, Parkridge center, Global Gathering, Canadian Save the Children, Immigrant Women of Sask., Saskatoon Refugee Coalition, Olympia Restaurant, Mount Royal Park N. of Howard Coad School Keeping the circle strong Event, Sask. Place Cheers to Volunteers, Sherbrooke Nursing Home, Sask. Assoc. for Community Living AGM, Harvest Fest in Sutherland, Cosmopolitan Industries Ltd., Waskesiu Children's Festival, Elimination of Racial Discrimination, El Salvador Fundraiser in North Battleford, Canada Save the Children in Market Mall Event, Canada wide Science Fair Education Gym U of S, Addressing Disability Issues Conference, Federated Coop Conference Mini Folkfest at Titan Place, Ache Brazil Performance, Children's Fest, Dave King Annual Jaunt for Autism, Anti-Racism, City Hall, Cameco Victoria Part Festival, 2nd Ave. Sidewalk Sale, Romanian Pavilion Folkfest, Sutherland School, Sask. Intercultural Assoc., Westview Star Event, Dinner and Dance McNally Robinson, Saskatoon Health Region Family Day in Park, Youth Heritage Fair, Norwegian Pavilion Volunteer Appreciation, E.E. Burritos for Wanda's Housing for New Immigrants, Room for Improvement (3rd World Country Developments), Farmer Market, Festival of Faith, Wildwood School PTA, My Way Graduation, John Dolan School, Fireworks Festival, Dance Saskatchewan Cultural Days, Columbian Manor, Primrose Chateau, Waterfront fine Crafts Market, Central Haven Care Home, Sask. Marathon, Mount Royal Day in the Park, Market Mall 50th Anniversary, St. Volodymyr Villa, John Lake Park Avalon, Lanigan Elementary School, Food truck Wars, Global Gathering Christmas Party, Central Haven, Oliver Place, Bentley, Palisades, Trinity Manor, Parkville Manor, St. Volodymyr, St. Joseph's Home, Mini Multi-cultural German Cultural Club, Saskatoon Convalescent Home.
It has been our members pleasure to perform and entertain at all of these locations. Thanks to all who have invited us to be part of their event and the support the club received in whatever way you could.
Read what one of the members has written about her experience dancing for the seniors.
"On many occasions over the years, we have been asked to dance at nursing homes, care facilities and senior residences. One soon learns that the joy of music and dance in your life forever stays in the heart.
I have seen elders that have left their physical and mental trials behind, swaying in their wheelchairs, eyes closed and sometimes singing the song of memory while we dance. Others, with smiles on their faces, tapping their toes, clapping hands, have related to me their memories of dancing in their youth.
It is said that music has a strong emotional power, I feel so fortunate to be able, along with my fellow dance friends, to share this pleasure and to spark long-term memory. It is always a humbling experience." Donna Mutlow 22/3/2021
Broadway Street Fair
Festival Of Trees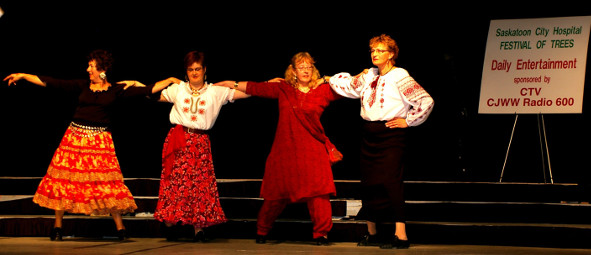 Central Haven Senior Home
Click here to go back to the Club History page.

---
Home - Members - Teaching Schedule - Upcoming Events - Past Events - Club History - Our Dances - Photos - Links - SiteMap
---
(Updated on April 8, 2021)